Location Details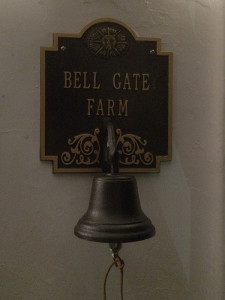 Just 90 miles west of NYC and 7 minutes off the Route 78 exit, we are a hop skip and a jump away for a weekend getaway. Similarly, we are 45 minutes from Philadelphia. The beauty of Bell Gate's location is that it feels secluded when you are here, but it's actually quite accessible.
About Lehigh Valley:
The Lehigh Valley (/ˈli.haɪ ˈvæ.li/), known officially by the United States Census Bureau and the United States Office of Management and Budget as the Allentown-Bethlehem-Easton, PA-NJ Metropolitan Statistical Area and referred to informally and locally as The Valley is a metropolitan region officially consisting of Carbon, Lehigh and Northampton counties in eastern Pennsylvania and Warren county on the western edge of New Jersey, in the United States.The core population centers are located in southern and central Lehigh and Northampton counties along U.S. Highway 22 and Interstate 78.
The Lehigh Valley is the fastest growing and third most populous region in the state of Pennsylvania with a population of 821,623 residents as of the 2010 U.S. Census. It is eclipsed in total population only by the metropolitan areas of Philadelphia and Pittsburgh in Pennsylvania. It is the 64th most populated metropolitan area in the United States. Lehigh County, the Valley's largest county in terms of overall population, is amongst the fastest growing in the nation as well, ranking in the 79th percentile for population growth between 2010-2012.
In March 2014, the Lehigh Valley was recognized by business publication Site Selection Magazine as being the second-best performing region of its size for economic development in the entire United States.
The region is named for the Lehigh River, which runs through it, and it is part of the Great Appalachian Valley.