Your Home Away From Home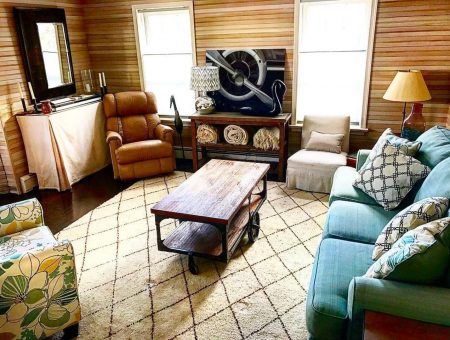 Named after Bell Gate's caretaker for the last 55 years, I dedicated the guest house in her name. This lovely petite cottage is much larger on the inside than it appears from the outside. Specially made cedar reversed wainscoted planks were sanded down to a light whitewashed color. It covers every inch of the cottage and collects the light from morning to night in a beautiful range that suits the eye perfectly. There is a large living room downstairs with a refrigerator, and a dining table that seats 4-6. It is the perfect space to entertain guests that might visit during your stay.
The second floor is the epitomy of a country destination getaway. Its configuration can either be two twin beds or one king and has an en suite bathroom with newly renovated floors, bath and shower.
There are a variety of great restaurants in the area. The Limeport Inn is just 2.2 miles down the road and features excellent cuisine. We'd be happy to make arrangements for you if you wish. Alternatively, if you are looking just to steal a quiet low key weekend away, we can make dinner for you as well. Pricing available upon request.
Our property boasts over 268 acres worth exploring, and we would be happy to pack a picnic lunch for you if you like as you explore the property and relax. Pricing available upon request.