Happiness Begins with Bell Gate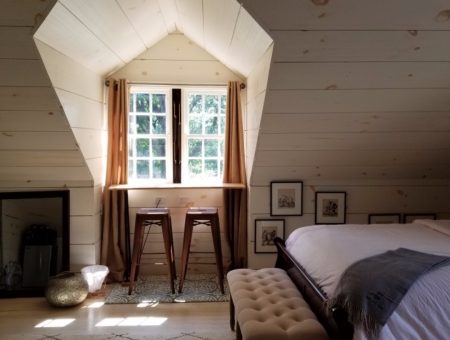 Located above one of the original properties built in 1780, BG Suite 1 is a second floor 800 Sq. ft. Room with en-suite Bathroom.  Two beautiful queen size cherry wood sleigh beds compliment the all white wooded panels and grey and white carpet. This room can accommodate four or more. It has a chaise lounge for comfortable reading and great light. The bedding was chosen to compliment its country chic setting, and some of the femininity is off-set by great photos of boxers.
There are a variety of great restaurants in the area. The Limeport Inn is just 2.2 miles down the road and features excellent cuisine. We'd be happy to make arrangements for you if you wish. Alternatively, if you are looking just to steel a quiet low key weekend away, we can make dinner for you as well. pricing available upon request.
Our property boasts over 230 acres worth exploring, and we would be happy to pack a picnic lunch for you if you like as you explore the property and relax. Pricing available upon request.