Built in 1780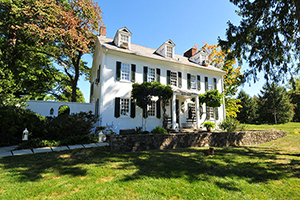 Owned by one of the first settlers who located in the area around 1728 known as the Henrich Wilhelm Dillinger Family, James and Rebecca Dillinger were the first family to occupy this house built by James' father.
One part of the house was probably built in the early 1780's with a large addition erected some years later. The grounds include outdoor recreational facilities and the home, although contemporarily decorated, has retained the character of early construction.
Bell Gate Farm was once one of 3 of the largest farms in Pennsylvania, and visitors would travel hundreds of miles to visit these pastoral lands. Situated and nestled at the bottom of a Valley further reinforces what we know historically about the property. Built upon a spring would have given the occupants plenty of water and the resources needed to survive the daily structure of life like cooking, smoking meats, and keeping perishable foods cold.
Purchased in the early 1960's by my Father, it was important to him not just to purchase the house, but also the approximately 268 acres that came along with it. His goal was to ensure that these lands remained undeveloped and be kept protected and untouched other than specifically for farming or open space. An advocate for farming and Farmer's rights, my Father represented many of the farmers in the area pro-bono, and was always available for advice free of charge as well. Approximately 130 acres are still being farmed. Bell Gate's Main house, barn, and surrounding outbuildings sit upon 15 acres, and the rest is wooded area. Having an event here means a little something for everyone with regards to their 360-degree view.
In the early 70's, my parents got married. Bell Gate went under it's first major interior and exterior renovation. The purpose was to make entertaining easier for friends, family, guests, and clients. I can still hear the raucous laughter coming from downstairs when I would go to bed. From my window, I could hear the flitter of happy voices whispering outside by the pool and side porch. Sometimes, I think I still can.
About Lehigh Valley:
The Lehigh Valley (/ˈli.haɪ ˈvæ.li/), known officially by the United States Census Bureau and the United States Office of Management and Budget as the Allentown-Bethlehem-Easton, PA-NJ Metropolitan Statistical Area and referred to informally and locally as The Valley is a metropolitan region officially consisting of Carbon, Lehigh and Northampton counties in eastern Pennsylvania and Warren county on the western edge of New Jersey, in the United States.The core population centers are located in southern and central Lehigh and Northampton counties along U.S. Highway 22 and Interstate 78.
Book your next room or event here
Book Now